Tripletex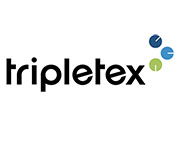 Tripletex delivers a complete cloud-based economy system. The system consists of modules for accounting, invoice, salary, time management, project management and CRM.
It is built of self-chosen modules, which are installed seamlessly. The system is suitable for both large and small businesses.
Tripletex is based on smart and intuitive solutions, with good APIs and automation. This way, users can do a large part of the accounting work themselves, and they can connect to other systems they need.
Tripletex AS
Daglig leder
Hege Oustad